On January 19, AmCham Digital Society Committee held its 1st meeting of the year where many topics have been discussed. Among them – the committee's leadership in 2023. The 2022 Committee Chair Kristian Riber, Google has stepped down from the position and  Edgars Milgravis, Regional Sales Director, Palo Alto Networks was nominated at the meeting as the new chair of the committee. Edgars was confirmed by all meeting participants unanimously.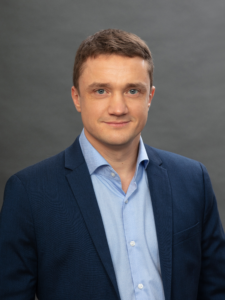 Edgars is an IT sales and business development professional with more than 15 years of experience. In the Baltics he has worked for companies like Santa Monica Networks, Cisco and Palo Alto Networks. He loves to find solutions to "unsolvable" problems. His broad range of professional hobbies include outdoor cinema screening, sailing and travel.
"As I'm based outside of Estonia, I have the ability to bring a fresh point of view from the side. I'd also like to promote the importance of Cybersecurity practice and education through both AmChams' policy and activity engagement with Estonian government officials and organizations."- says Edgars.