WE STAND WITH UKRAINE!

AmChams in Europe Stands in Solidarity with the People of Ukraine

AmChams in Europe, the umbrella organisation for 46 AmChams in 44 countries across Europe and Eurasia, including AmCham Estonia, stands in solidarity with the people of Ukraine. The ongoing invasion of Ukraine violates international law and endangers peace and security across the region. It poses a clear threat to fundamental values of human dignity, democracy, rule of law and solidarity.
Our thoughts go out to all the individuals who are directly impacted across the region, including our fellow AmCham colleagues, their members, partners and relatives.
Our network brings together individuals and organisations with deep ties across Europe and Eurasia, and around the world. It is built upon a strong belief in the importance of cooperation, dialogue and cultural understanding. The military actions underway jeopardise those ideals.
AmChams in Europe supports all ongoing efforts to avoid further escalation, protect civilians and safeguard security and prosperity across the region.

READ THE FULL STATEMENT HERE..
_______________________________________________________________________________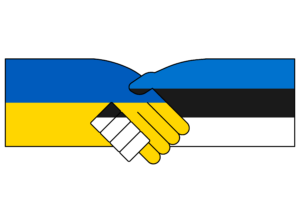 AmCham Estonia Launches "#Business4Ukraine" Support Group
This September, AmCham Estonia Board of Directors has announced a special support group under the chamber umbrella – #BUSINESS4UKRAINE!
This group will be led by our board member -Carl Pucci from EO59. The aim of the group is to gather our members who are supporting Ukraine in one way or another, exchange ideas, best practices while featuring their stories to inspire others!
If you would like to join this group, please contact daria@amcham.ee or carl@eo59.com 
WE WANT TO HEAR YOUR STORIES!!
_____________________________________________________________________________
AmCham Estonia donates €6,100 to United24 Fund in Support of Ukraine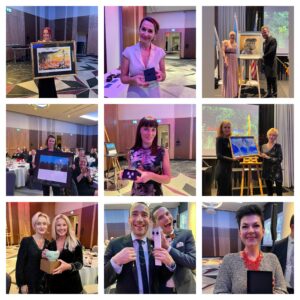 During the 25th Anniversary Gala Dinner on October 13, AmCham held a silent auction in support of Ukraine. Many well-known artists support the auction with their art and jewelry, among them were Martin Saar, Navitrolla, Epp Maria Gallery, Arro Porcelain, Kadi Veesaar Jewellery, Tanel Veenre, New Vintage by Kriss and Laura Saks known as EGG Laura Saks.
The auction raised €6,100 that will be donated to the United24 launched by the President of Ukraine Volodymyr Zelenskyy as the main venue for collecting charitable donations in support of Ukraine. Funds will be transferred to the official accounts of the National Bank of Ukraine and allocated by assigned ministries to cover the most pressing needs.
_____________________________________________________________________________
AmCham Estonia Invites the Ukrainian Ambassador to Estonia Marianna Betsa to the AGM 2022 s a Keynote Speaker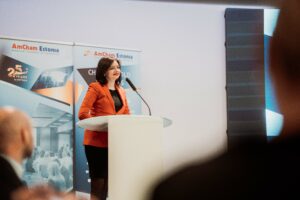 Over 50 executives of American and Estonian companies attended the event that featured 2 keynote speakers – The Ukrainian Ambassador to Estonia Mariana Betsa and the Estonian Minister of IT and Entrepreneurship Andres Sutt. Ambassador Betsa's speech focused on the current situation in Ukraine, the importance of solidarity and support of Ukraine with weapons, additional sanctions, and future restoration of the country.
Her speech ended with a standing ovation by all meeting participants. 
______________________________________________________________________________
CHEMI-PHARM: Donates Disinfection Products to Civilians in Ukraine 
Throughout the history, the deadly friends of war and disease have accounted for a huge proportion of people suffering and deaths. Infectious diseases abuse the conditions created by war, affecting both armies and civilians. Among civilians, conflicts promote conditions that lead to increased incidence of infectious diseases, including mass movement of populations, overcrowding, lack of access to clean water, poor sanitation, and poor nutritional status. In addition, the collapse of public health infrastructure and the lack of health services weakens control programmes such as vaccination or vector control. To help to overcome these hurdles at least to some extend, in spring Chemi-Pharm AS has donated several pallets of disinfection products to the civilians in Ukraine.